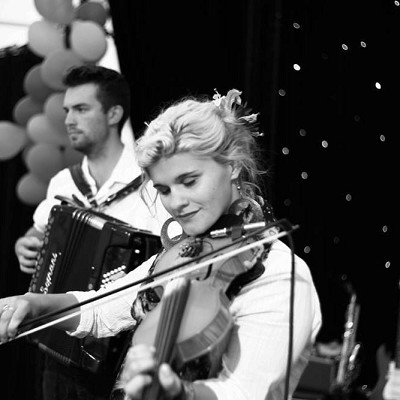 Photo; Stephen Berkeley-White
No Bo Diddlers show is complete without wonderful live musical accompaniment, provided most often by talented folk duo Danny Pedler and Rosie Butler-Hall. Well known for their flowing melodies and strong rhythm, Danny plays Accordion and Hurdy Gurdy and Rosie plays five string fiddle and sings. 
"A beautiful combination of English and French music that is superb to listen to and amazing to dance to!" – John Dipper (English Acoustic Collective, Methera, Morris Offspring and Dipper & Daniels)
To find out more about them, tour dates and recordings, please visit their website;
Other musicians who have played for the Bo Diddlers include; Nick Hart, Rachel Aggs, Stephen Warbeck, Sarah Homer, Adrian Garratt, Jack Beale.